I had the honor of meeting Debbie in 2007 when the "Fight for Victory Tour" stopped in Niles, Il. to honor our military. I have admired her for a long time. See My Report These are the only photos I could find, they were moved from the original report. There is one link I have noticed has been hacked 'Itinerary for "Fight for Victory Tour", Don't go to it, it is vulgar and has a trojan, if you do not have a malware block. It seems some pacifist has left his makr on the entire website. So JUST see the report.
So when Debbie Lee talks about her son Marc, when Deborah Johns talks about Will and when the hundreds of blue star and gold star moms and families that I have met on this trip across the country talk about their sons and daughters who have joined, we must not allow ourselves to think of that liberal stereotype of the disconnected kid who is looking for a group to belong to and needs the signing bonus because his family has no money. These boys and girls who enlist in our armed services could have done anything with their lives, anything they wanted, because they are achievers. But they all felt a call to service, to be a part and support something much larger and greater than themselves. ~ JP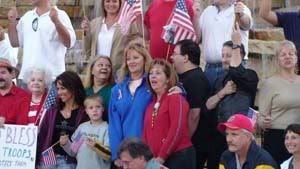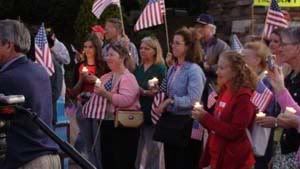 Please watch this animated image change:
Tribute to our soldiers who are serving our country, and those who have made the ultimate sacrifice.
It is a very, very powerful tribute to our men and women in uniform, and to the Gold Star parents whose children gave their lives in service to our country.
Charlie Daniel's message of "Let'em Win Or Bring'em Home" resonates with me on a deep, personal level because my son is in the Marines — Capt. Joseph Bozell, stationed at Camp Leatherneck, Afghanistan. It's a great national tragedy when cowardly political correctness and civilian leaders' incompetence corrupt a military . Afghanistan began as a necessary and noble cause. At this point it's not worth another drop of American blood, yet our good men (and women) continue to die. And for what?
Please share this moving tribute to our military servicemen and their loved ones with your friends and family. Charlie Daniels has done something really special here.
Thank you. God Bless America. L. Brent Bozell III of MRC