Videolog: Lets get the facts straight first. Before the video started the boy went through a metal detector and didn't set it off but was selected for a pat down. The boy was shy so the TSA couldn't complete the full pat on the young boy. The father tried several times to just hold the boys arms out for the TSA agent but i guess it didn't end up being enough for the guy. I was about 30 ft away so i couldn't hear their conversation if there was any. The enraged father pulled his son shirt off and gave it to the TSA agent to search, thats when this video begins.
How long will we hear these stories before people go Apocalyptic?! Is THIS exactly what the government is trying to get us to do? Think about it, they are trying to do all they can to incite us. Right to where they want us. There are no more adjectives to describe how backed in a corner we are! I don't know about you, but I personally have been losing sleep over this.
I JUST went out on my moonlit deck to clear my head & my eyes. To recharge my spirit & seek answers. They cannot take away that moonlight from me. They cannot take the beauty of it from the clouds passing over it, nor the stars that peek out & wink at me.
I pray hard, constantly for an answer to how we can all cope. How we should all respond.
The same thought rpeats in my head that when we are confronted with the constant bombardment from our enemy, as with this latest assault from the TSA, I will tell them, things like:
* Was it good for you? Where you good for me? FAIL!
* You shouldn't do that to me when you know I can't light a cigarette after-wards.
But then I know I would truly ask them, "How do you sleep at night" spewing out expletives that would surely get me arrested. But then I wake up with a tear soaked pillowcase friends. For I know that will solve nothing. I see us going down & I scream in my head until I feel I will surely burst a blood vessel. I think of my grandparents who escaped from Communist Poland & I cry for them.
But there is a time to stop crying.
There is NO time to stop fighting all this government throws at us.
When we feel we cannot face another curve ball they throw our way:
WE MUST NOT GIVE UP!
They want us to Revolt, so they can imprison us. We will not be baited. We need to live the example of 8/28. It makes them angry. It makes US feel good.
Again, I beg you:
Do not play it their way… for then we surely lose!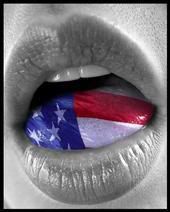 ~Stand beside her and guide her…God Bless America – Celine Dion